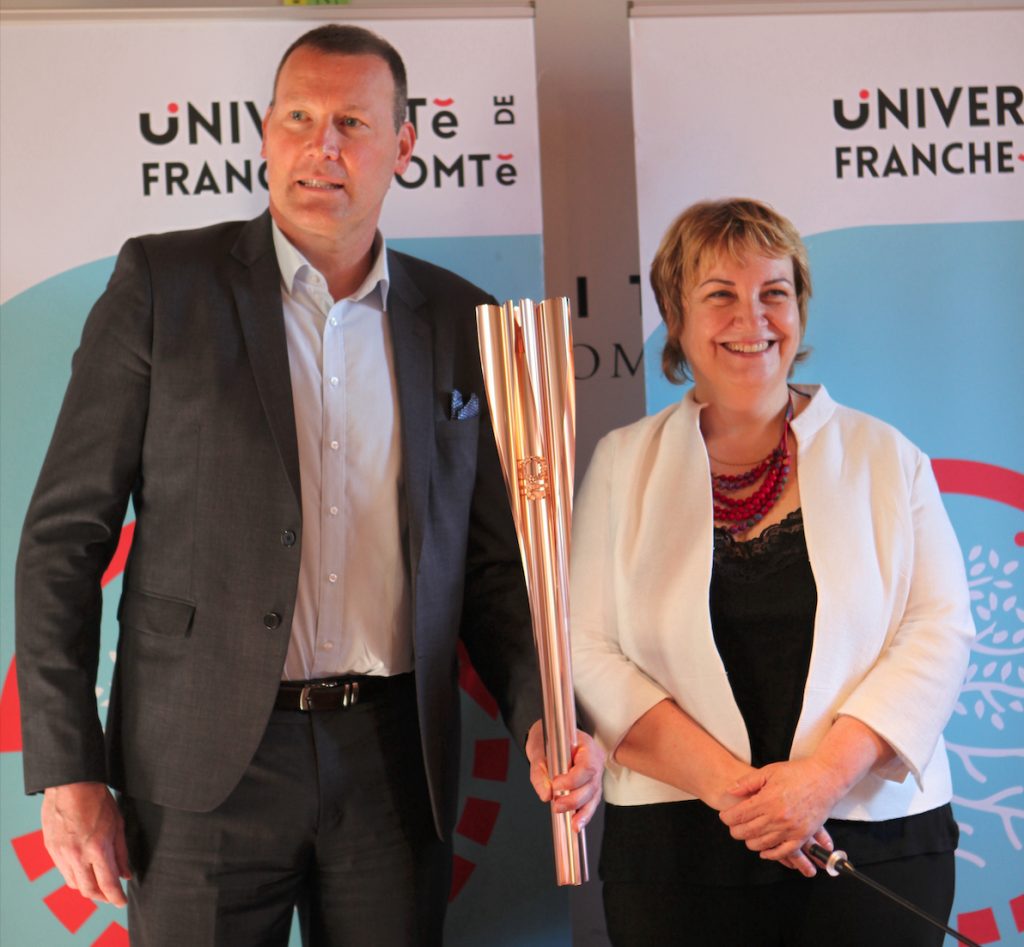 Macha Woronoff, President of the University of Franche-Comté and Éric Monnin, Director of the CÉROU and Vice-president of the University of Franche-Comté for Olympism.
About the CEROU: a first in France!
If 60 structures of this type, involving 24 countries, are listed worldwide, the University Olympic Studies and Research Center (CÉROU) in Besançon is the first on French territory.
Based at the University of Franche-Comté, the CÉROU is, like the other centers, recognized by the International Olympic Committee (IOC) on the basis of two criteria: it manages research projects and maintains official relations with the IOC and the Olympic world.
Translated with www.DeepL.com/Translator (free version)
Multidisciplinary studies and research!
The CEROU promotes links between the actors of the Olympic/Paralympic world and researchers, organizes events such as colloquiums or conferences and sets up teaching related to Olympism.
It also promotes an educational and research policy according to 4 strategic axes: 
CEROU is a study and research federation of University of Franche‐Comté (UFC) chaired by Professor Macha Woronoff.  Benefiting from its full support, as well as from its team, its vocation is to federate the studies, the teachings and the research works related to Olympism carried out and delivered within the UFC or outside it.
To this end, it coordinates collaborations between the components and research entities of the UFC in order to encourage the emergence of common studies, teachings and works.
The CÉROU thus allows to promote the creation and the diffusion of Olympic knowledge. It is directly linked to the policy undertaken in terms of research, promotion of sport and Olympic values within the UFC and "Generation 2024".
To ensure its functioning, the ECROU has a Strategic Orientation Committee (SOC) of 20 members.
Éric MONNIN
Director of CÉROU
Vice-Président of l'université of Franche-Comté for l'olympism.